Massive Accounting Failure at HUD
Kathryn Watson of the Daily Caller News Foundation reported yesterday that "Department of Housing and Urban Development (HUD) officials have ignored 63 financial management recommendations from Congress' investigative arm since 2012 and only half-heartedly followed many more, resulting in the $43 billion agency's books to be all but useless." In addition, she wrote:
"Things have gotten so bad at HUD so rapidly, that auditors who found only one "material weakness" in the department's accounting in 2012 found nine in 2015, according to a Government Accountability Office (GAO) report published Monday."
According to Auditing Standard No. 5, "A material weakness is a deficiency, or a combination of deficiencies, in internal control over financial reporting, such that there is a reasonable possibility that a material misstatement of the company's annual or interim financial statements will not be prevented or detected on a timely basis." In other words, says Investopedia, if unresolved, "a material misstatement could eventually occur in a company's financial statements, which would have a tangible effect on a company's valuation. For example, a $100 million overstatement in revenue would be a material misstatement for a company generating sales of $500 million annually." Government Finance Officers Association guidance is similar, and provided here.
Ms. Watson continued her reporting of what GAO found in their audit at HUD:

"The Department of Housing and Urban Development (HUD) has struggled to resolve persistent management challenges, in part because it has not consistently incorporated requirements and key practices identified by GAO to help ensure effective management into its operations," GAO said. "In addition, HUD's past remedial actions were not always effective because they were not sustained."

"Turnover among senior leadership, shifting priorities, and resource constraints have contributed to HUD's difficulties in implementing needed changes," the report continued. "As a result, GAO and others continue to find deficiencies in numerous aspects of HUD's operations."

"The report — drawing from 15 years of GAO and HUD Office of Inspector General (IG) audits — particularly faulted HUD officials for failing to fix seven of eight financial accountability recommendations, and neglecting to dedicate staff members or policies to preventing waste, fraud and abuse.

"GAO's concern for HUD's financial state surrounded poor audits. Auditors found more "material weaknesses" with each passing year; the number jumped from one in fiscal year 2012 to nine in fiscal year 2015. HUD's books, which auditors gave a "clean" opinion for 13 consecutive years until 2013, were in such bad shape in 2014 and 2015 that auditors couldn't issue an opinion on them.

"GAO also criticized HUD for neglecting its oversight duties. The department "has not formalized key practices for program oversight and evaluation," or "formally designated entities to manage fraud risk," GAO said. HUD's complicated structure, consisting of thousands of local housing authorities and contractors and dozens of programs, makes it ripe for waste and fraud, GAO said."
The U.S. General Accountability Office (GAO) in question is "Department of Housing and Urban Development: Actions Needed to Incorporate Key Practices into Management Functions and Program Oversight" (GAO 16-497). It was published July 20, 2016, and publicly released August 19. The full report is 148 pages, but a two-page summary is available.

The summary includes the following infographic that shows the extent to which HUD met requirements or was following key practices for management functions.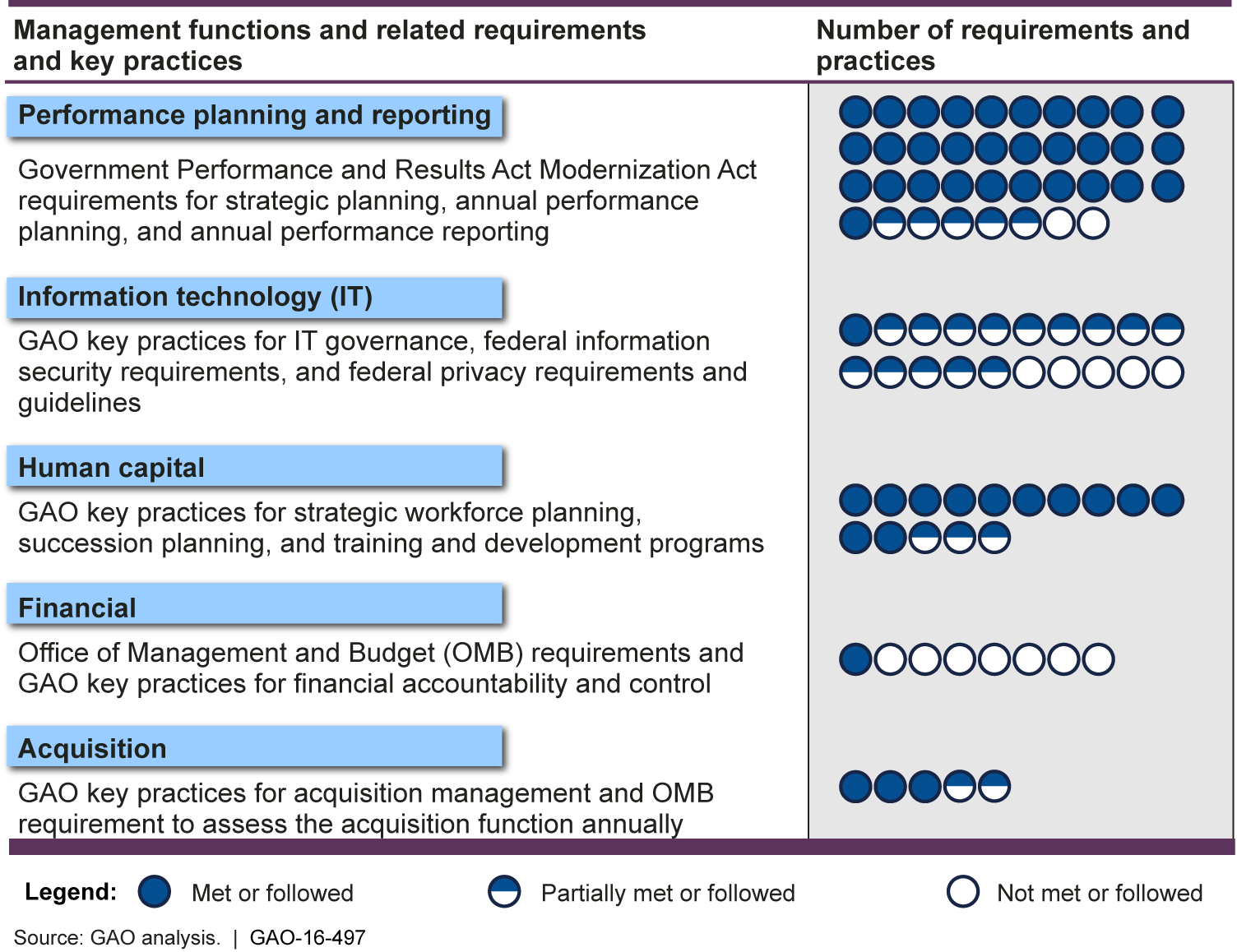 In all my years of reading GAO audit reports, I cannot recall reading of a more massive accounting failure in the government sector. In the private sector, its equivalent could be the Enron Corporation scandal, which also resulted in the "de facto dissolution of Arthur Andersen." At the time, Arthur Andersen was one of the five largest audit and accounting partnerships in the world, according to Wikipedia.

For background information about the Department of Housing and Urban Development, see the HUD write-up at the Cato Institute's DownsizingGovernment.org project.
Add in the "Pentagon Money Pit," which we growled about on August 20, 2016, not to mention others, including the IRS scandal -- currently at day number 1202 according to the Tax Prof Blog, and you have to wonder if anyone in the federal government has a clue.

To paraphrase Dave Lindorff at CounterPunch.org. it's incredible that virtually no mainstream reporter or editor in the United States has seen fit to report this story to the American public. So kudos to Katie Watson for reporting on the GAO audit of HUD.

So, take a few minutes, and write to one of your Congressional representative to tell them your thoughts about the need for appropriate financial accountability and control as well as information security. Contact information is available at the Library of Congress' Congress.gov website. Taxpayers living in Virginia's Arlington County can contact:
Senator Mark Warner (D) -- write to him or call (202) 224-2023
Senator Tim Kaine (D) -- write to him or call (202) 224-4024
Representative Don Beyer (D) -- write to him or call (202) 225-4376
Ask for a written response. And tell them ACTA sent you.