How Federal Surpluses Became Deficits
Some long-time ACTA members may remember the federal budget surpluses that are generally associated with former president Bill Clinton. As the lefty blogger Ezra Klein of the Washington Post wrote on September 5, 2012 during the recent Democratic National Convention:
"There's a reason Bill Clinton is on the stage tonight. When he was president, America enjoyed a booming economy and surpluses . . . Since he left the White House, things haven't been quite as good.


"But the story of why they haven't been quite as good is more complicated than "Clinton isn't around now . . . ."
Klein then goes on to post "three of the best analyses of what's happened to the federal budget since 2001." Surprisingly, one of them was the "e21" analysis by Charles Blahous (here at the e21 or economics21 website and here at the Mercatus Center website).
Veronique de Rugy, senior fellow at the Mercatus Center, has a "short" version of Charles Blahous' analysis and introduces the topic this way:
"In the face of ballooning federal budget deficits, people have been wondering how the Clinton surpluses evaporated. Indeed, between 1998 and 2001 and for the first time in decades, the U.S. budget was balanced. Using Congressional Budget Office data, these two charts—modified from the ones made by Charles Blahous in his e21 piece "How Did Federal Surpluses Become Huge Deficits?"—provide some answers to this question.

"According to the CBO, three areas have influenced the swing from projected surpluses to actual deficits over the 2002–2011 period: (1) increased spending, (2) a shortfall in tax revenue, and (3) projection inaccuracies.

"As we can see on these charts, over the 10-year period, about three-fourths (73 percent) of the $12.7 trillion growth in federal debt was spending and tax legislation, the rest being the product of projection inaccuracies—such as expecting higher growth, increased revenue, or lower spending."
She provides the following two charts to explain how "tax relief" and "spending" were two of the three causes of why the "Clinton budget surplus" evaporated: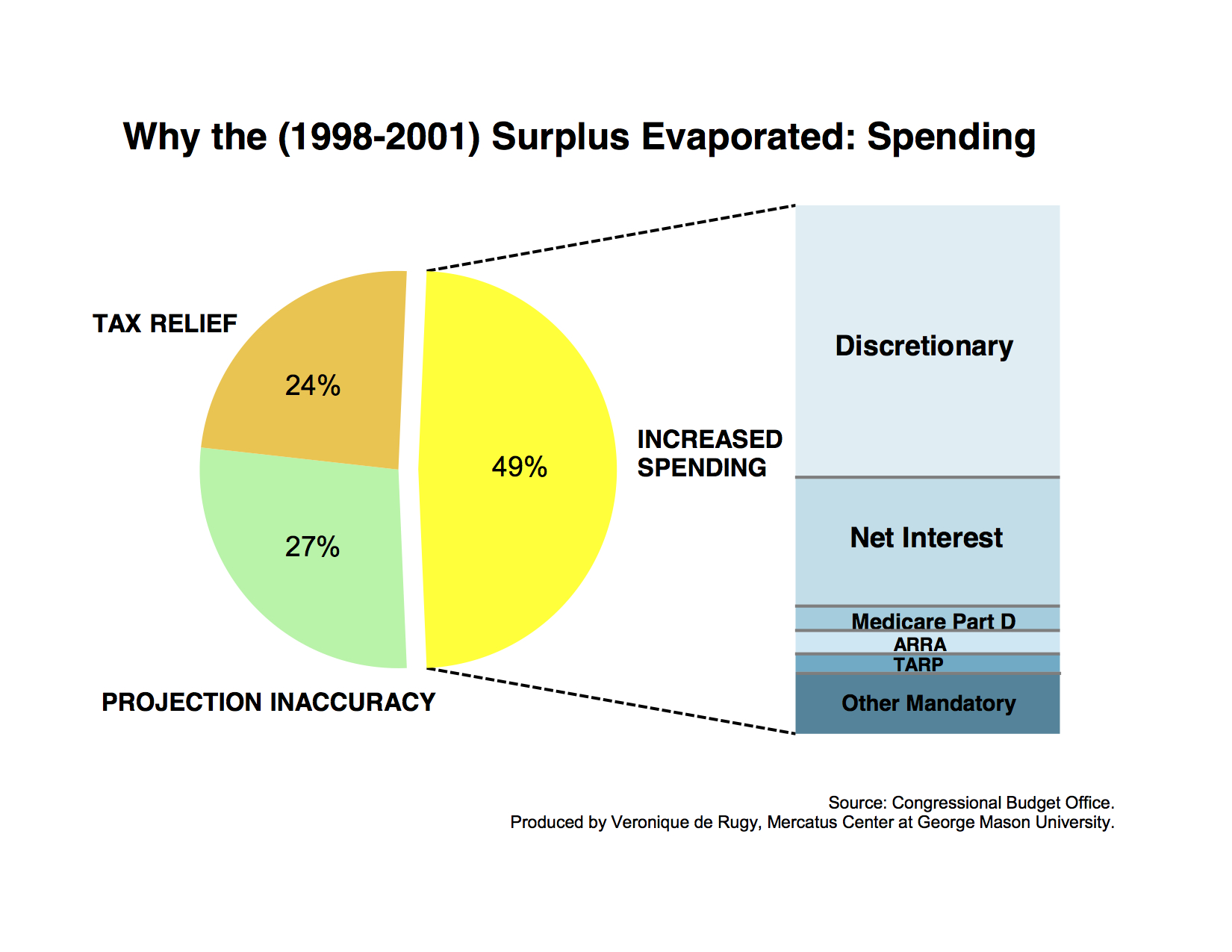 Additional resources: At Business Insider, Joe Weisenthal tells the "untold story of how Clinton's budget destroyed the American economy. However, at Forbes magzine, Karl Whelan says "Weisenthal is right to be skeptical of the simplistic view that it is always good for the government to run surpluses or even balanced budgets . . . But using sectoral balances to reach back in time to blame Bill Clinton for the financial crisis is an argument that doesn't fit the facts." Unfortunately, other than Klein's post at WonkBlog, a search at Google News found virtually no mainstream media coverage of how Clinton's budget surpluses "evaporated." So, Ezra Klein deserves our kudos for the day.