Latest Aquatics Center Proposal "Draws Mixed Reaction"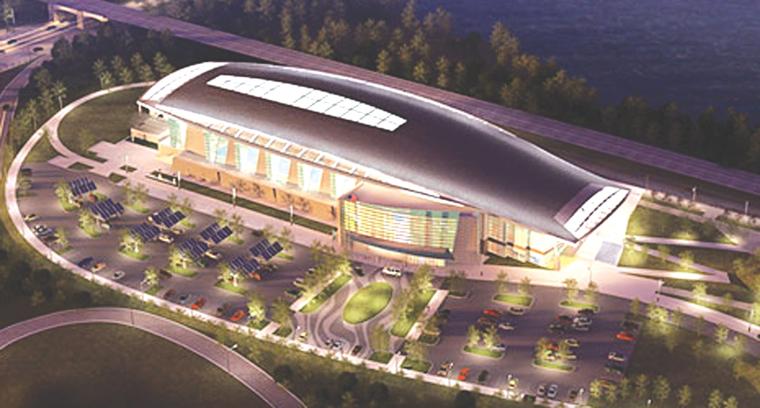 The Arlington Sun Gazette's Scott McCaffrey reported this morning:
"A nascent proposal for Arlington and Alexandria to work together in building the stalled Long Bridge Park aquatics center has generated mixed reviews.

"Arlington officials on Aug. 12 announced that both localities would survey residents in coming months about the prospect of working together on the Crystal City project, which was put on ice two years ago after construction bids came in well over projections and projected operating deficits ballooned.

"The joint-use proposal is one of several that could be reviewed as Arlington officials attempt to jump-start interest in the project."
We frequently growled about this Arlington County Board vanity project although not recently. The oldest Growls, according to a search, is June 6, 2012, when we noted the Arlington County Civic Federation voted 25-6 to urge the County Board to pull funding for Long Branch Park. Then on October 4, 2012, we growled and asked if the county needed a 'Taj Mahal' aquatic center. We also growled on November 2 and November 3, 2012 to urge voters to vote NO on the parks bond referendum. Most recently, we growled on March 20, 2015, when Arlington County officials said they may scale-back this boondoggle vanity project. Use the search facility in the right-hand column to find other Growlings about the aquatics center.

Back to today's news. McCaffrey continued his reporting by writing:
"We are keeping our eyes wide open for partners," said Susan Kalish, a spokesman for the county government's Department of Parks and Recreation.

"Kalish called it "serendipitous that Arlington and Alexandria were doing a needs assessment with their community and have money in their capital-improvement plans for an aquatics facility around the same time."

"Arlington residents will be surveyed about the proposal as part of community discussion of the county's public-spaces master plan, set to be unveiled in September. Alexandria residents will be asked if they'd rather see a partnership for the Long Bridge Park site than the proposed expansion of a pool facility at the city's Chinquapin Park."
McCaffrey provides opposing comments by two residents, reporting:
"I consider it worth exploring," McDermott said. "My preference would be for Arlington to be able to do this on its own, but if a partnership makes an aquatics, health and fitness center become a reality, I would support it."

"More circumspect is veteran county budget-watcher Wayne Kubicki, who said there remain far more questions than answers – not simply about the partnership, but about the project as a whole."
He also includes comments by local builder, Terry Showman:
"Terry Showman, an Arlington-based builder who has been active in planning-and-zoning issues for two decades, wondered aloud why Alexandria might wish to hitch its wagon to Arlington's aquatics center. His advice to city leaders: "Steer clear."

""With our track record, why would anyone want to partner with a government who designs million-dollar bus stops and the aforementioned, unaffordable original Long Bridge pool?" Showman asked. "It seems to me that finding a partner to work with Arlington County officials is a little like finding a partner for Bernie Madoff."

"How much bad publicity can you get in 10 years of trying to build this park? The county must have set a record in futility by now," Showman said. "If the county could reorganize itself with staff and board members exuding common sense, then maybe someone would think about partnering with us on a project."
If you haven't followed the saga of the Long Branch Park vanity project, take a few minutes to read Scott McCaffrey's complete article since it provides a comprehensive history of the project.
On Wednesday afternoon, ARLnow.com reported on the Arlington County Board's possible partnership with Alexandria.
If you don't want to wait for the County Board's survey, take a few moments to write to the Arlington County Board. Just click-on the link below:
Call the County Board office at (703) 228-3130.
And tell them ACTA sent you.