Virginia Drops Two Places to No. 17 in Small Business Index
In the Commentary section of today's Washington Times, Richard Rahn asks, "If you were going to start a new business in the United States that was not location dependent, what state would choose? Countries, states and cities all compete to attract businesses — both large and small. More businesses mean more jobs and usually greater prosperity."
Rahn introduces readers to the Small Business Policy Index (SBPI) 2017, the SBE Council's 21st annual edition, which ranks states on policy measures and costs that impact small businesses and entrepreneurship, writing:
"On Feb. 8, the Small Business and Entrepreneurship Council (SBE) released its annual ranking of the 50 states "according to 55 policy measures, including a wide array of tax, regulatory, and government spending measures." The findings were not surprising — Nevada, Texas, South Dakota, Wyoming and Florida were at the top, while Vermont, Minnesota, New York, New Jersey and California were at the bottom. What is troublesome is that year after year the business-unfriendly states do so little to improve their rankings. As the author of the study, Raymond J. Keating, chief economist of the SBE Council, noted: "Too many elected officials choose to ignore the basic economic realities of how government affects entrepreneurship, business, and investment."
"Taxes, regulations and excessive red tape and fees are all business and job killers — and often have a disproportionate effect on small and new businesses. Governments that engage in wasteful and inefficient spending and poor delivery of services, such as crime prevention, drive business away. Politicians endlessly cry about the "need" for more taxes and regulations in order to "protect the people." But in most places, government is already far larger than optimum, and so more taxes and regulations only make things worse. Again, it is no surprise that the most business-friendly states all get by perfectly well without a state income tax, while the least friendly states have many of the highest taxes."
Why are these policy measures important to small businesses and entrepreneurship? He explains, writing, "Real annual growth among the top 25 states (from 2010 to 2015) averaged 37 percent faster than the bottom 25 states. Population growth is an indicator of prosperity. People move to where good jobs are. The 25 most business-friendly states had a population growth of more than double the 25 least friendly states."
The five best and worst states, according to the chart of 2017 state rankings included with Rahn's article:"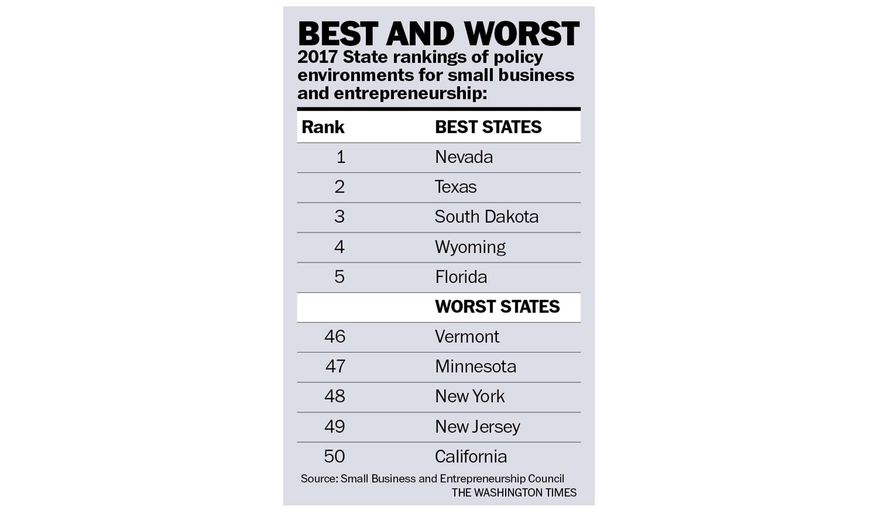 On SBPI 2017, Virginia ranks #17 with a score of 76.550. On the 2013, 2014, and 2016 indexes, it ranked #15. In 2012, however, it ranked #12, or a total of five places in five years. Here are 2017's 'key positives' and 'key negatives' for Virginia:
"Key Positives:

"Virginia ranks #17 on the SBE Council "Small Business Policy Index 2017."

"Virginia has no death tax, a low level of consumption-based taxes, low unemployment taxes, low wireless taxes, low workers' compensation costs, a low crime rate, is a right-to-work, and has no added minimum wage mandate.

"Key Negative:

"Virginia has ranked poorly in terms of the recent government spending trend."
The SBE Council's press release for the 2017 SBPI is here. A .pdf version of the Index is here.

Growls readers who are not satisfied because Virginia has been moving in the wrong direction on the SBE Council's Small Business Policy Index are urged to write to Governor Terry McAuliffe. Tell him that Virginia is moving in the wrong direction in regards to small businesses and entrepreneurship. Just click-on the following link:
Growls readers who are concerned that Virginia is moving in the wrong direction in its small business and entrepreneurship policies are also urged to write to their state legislators. The following legislators represent Arlington County in the Virginia General Assembly: Senators (Adam Ebbin, Barbara Favola, or Janet Howell) and Delegates (Rip Sullivan, Patrick Hope, Alfonso Lopez, or Mark Levine). Contact information for members of the General Assembly can be found here -- use one of the "quick links" to locate the senator and delegate who represent you.
While the index evaluates state policies, local governments are not innocent in creating policies that are unfriendly to small businesses and entrepreneurship. For example, almost two years ago, the Arlington County Board approved a new retail plan that attempted to be more flexible and competitive. Arlington County has a 15-step "small buisiness checklist and legal requirements." Can it be streamlined? And each year, the County Board generates a legislative package. Does it seek streamlined state policy towards small businesses and entrepreneurship? (see Item #42 on the Board's November 2016 agenda). Click-on the following link to send the Board a message:
Call the County Board office at (703) 228-3130.
And tell them ACTA sent you.